WEIGHT & BALANCE
Ensure your aircraft stays within limits for the duration of every flight with ForeFlight's Weight & Balance feature. Hundreds of built-in profiles for popular aircraft make setup fast and easy, and once configured you can input load and fuel details for any flight in seconds. Available as both a standalone view and integrated with Flights for ForeFlight Performance customers.
New

Enhanced and Integrated Weight & Balance

Create, edit, and plan with Weight & Balance profiles more easily with ForeFlight's Enhanced W&B view. The updated W&B view has a similar layout to the older one, with fields for entering load information, the weight and CG graph, significant weight values, detailed results, and powerful new integration with Flights to further streamline your flight planning.

Weight & Balance integrated with Flights is available with Performance Plus, Business Performance, and MFB Performance subscription plans.

 
Watch the video
Easy Setup
ForeFlight offers hundreds of prebuilt W&B templates for popular aircraft of all sizes to expedite setup, and tweaking a profile to match your own aircraft is simple and easy. Have legacy W&B profiles? If you set up W&B profiles prior to the major upgrade in March 2022, our Migration assistant will walk you through a simple 4-step process to adapt them to the new and improved paradigm.
Basic Operating Weight
Easily create permanent weight values for any seat or station by including them in your aircraft's Basic Operating Weight. ForeFlight automatically applies the specified weights to each station included in the BOW on all subsequent flights and locks them from editing so you only have to add weights that vary between flights.
Flexible Load Options
Whether planning with familiar passengers, new arrivals, or making last-second seat changes, ForeFlight's Weight & Balance feature provides convenient and intelligent load options to find your balance in no time.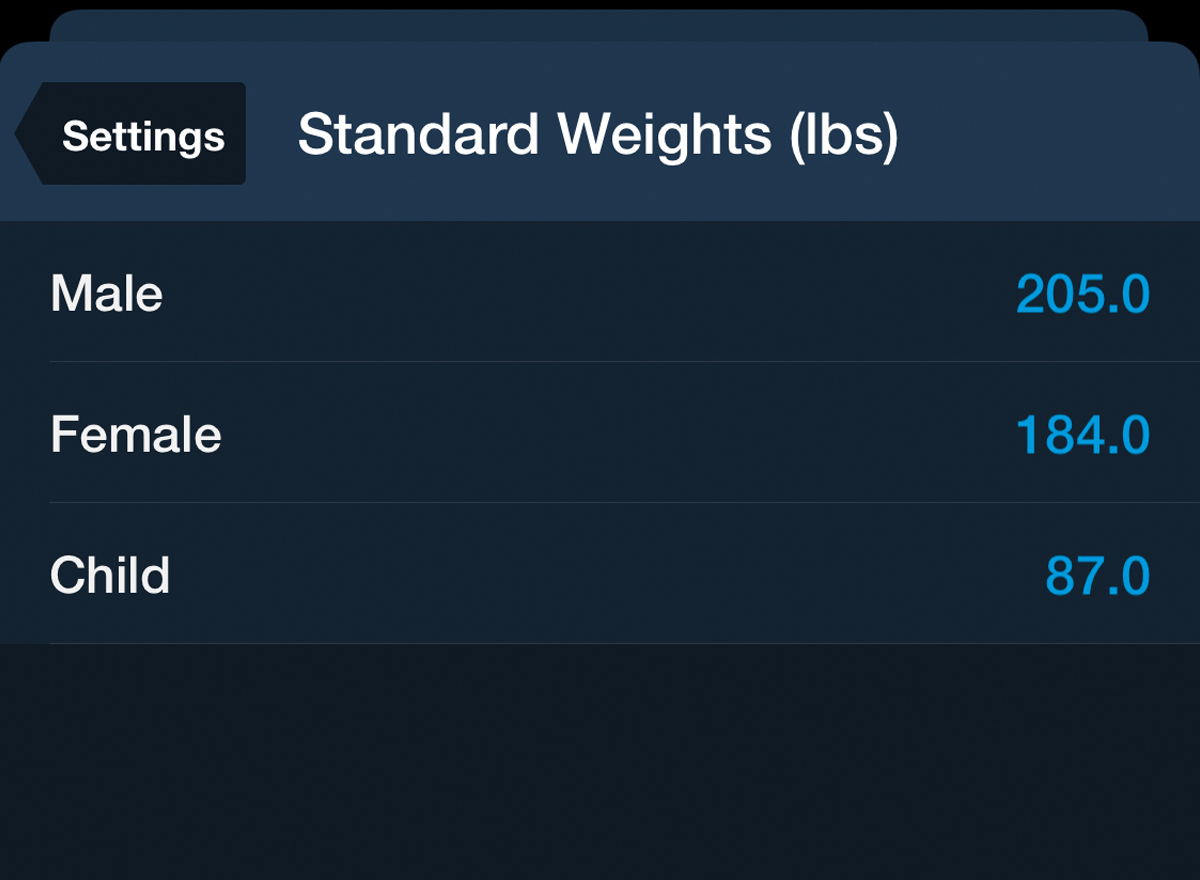 Standard Weights
Add a description to any passenger or payload item to save it for quick access on subsequent flights and skip the typing.
Saved Loads
Saved Loads will show you any weights you added manually with a description or loads migrated from your legacy profiles.
Auto Passenger Count
W&B will automatically update your headcount as you add or remove passengers, including infants in a parent's lap.
Weight & Balance Integration With Flights
ForeFlight Performance customers can directly integrate Weight & Balance with their flight planning to simplify their preflight workflow and produce more accurate time and fuel calculations.
Learn More About Performance Plus
The integration makes it easy to respond to last-minute payload changes, provides warnings when your aircraft is out of balance, and has quick access to the load manifest in the Flights view.
AUTOMATIC FUEL CALCULATIONS
As you adjust seat and cargo loads, starting fuel values and fuel consumption will automatically be calculated.
ATTACH LOAD MANIFEST TO FLIGHT
Access an updated copy of your Load Manifest directly in Flights view and attach it to your flight files for easy access.
ENABLES TAKEOFF TRIM CALCULATION
For larger jets, ForeFlight will calculate and display the required Takeoff Trim setting at a given %MAC.
Interactive Flight Summary
Quickly generate a PDF report based on your weight & balance setup. View or sign the flight manifest and then print directly from the app. You can also attach the complete W&B profile to an email or attach the signed summary to your flight.