Education & Flight Training
We can help you train the pilots of the future with the industry-leading mobile flight deck solution.
Supporting Aviation Students and Educators Everywhere
From individual instructors to the largest flight academies, ForeFlight empowers students and instructors
to collaborate more efficiently and safely. 
ForeFlight is a Powerful Teaching & Learning Aid
Safety First
Effective flight training starts and ends with safety. ForeFlight enhances safety and situational awareness during all phases of planning and flying.
Teach for the Future
Students who learn with the same flight app used by professional and military pilots gain invaluable hands-on experience for their future careers in aviation.
Link Classroom & Cockpit
Bridge the gap between ideas and practice by demonstrating concepts with ForeFlight's growing list of features during preflight, in-flight, and post-flight.
Key ForeFlight Features that Enhance Learning
ForeFlight doesn't replace the fundamentals of learning how to flight plan and navigate - it reinforces them. ForeFlight optimizes the time you spend with your students by helping them more easily visualize the flight environment.
Navigating Procedures
Teaching students to navigate departures, arrivals, and approaches is made easier with Procedure Preview. Select and visualize Standard Instrument Departures (SIDs), Standard Terminal Arrivals (STARs), and even VFR traffic pattern entries.
3D Airport
Students can increase their situational awareness and familiarity with new airports by studying the terrain and visual reference points before departing from or landing at any airport worldwide.
Better Weather Visualization
Graphical weather overlays on the map are essential to learning about aviation weather. Overlay a planned route with winds aloft, convective activity, TFRs, and more, and students will quickly build the skills to make go/no-go decisions.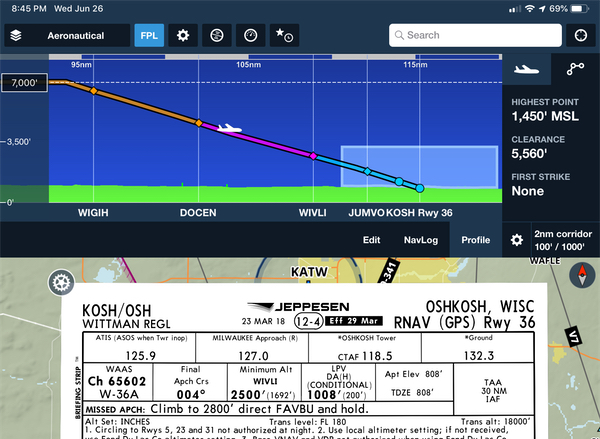 Learn Airspace in Profile View
Profile View brings a new dimension to studying a traditional chart and is the perfect tool for helping students visualize what their route will look like from the side in relation to terrain, obstacles, and airspace.