FOREFLIGHT LOGBOOK
Logbook is built-in to the ForeFlight app, making it easy for pilots to log and share flights, track hours, review currency, record certificates and ratings, receive electronic instructor endorsements, and generate experience reports.
New
Logbook on ForeFlight Web
Log your flights from anywhere with expanded access on ForeFlight Web! The web interface combines Logbook's familiar streamlined design with the convenience of a mouse and keyboard, making adding, editing, and reviewing entries a breeze. Log in to ForeFlight Web to get started.
Sync Between Devices
Logbook on Web syncs details between devices so you can manage your Logbook from anywhere. 
Log Entries
In the Entries view you can manage your logged flights and add new ones. Request a signature from your instructor with the "Request Signature" button at the bottom of an entry.
Manage Drafts & Requests
In the Drafts & Requests tab of Logbook you can approve draft entries made from Track Logs or filed flight plans, and respond to signature requests if you're a flight instructor.
Unique Time-Saving Features
With ForeFlight Logbook, managing your flight logs is easier than ever from within the app you already depend on for charts and maps, weather, flight planning, and inflight situational awareness.
EASY BULK IMPORT
Log in to ForeFlight to upload and import logbook entries saved in one of many different supported formats. We also provide a template to help organize your data. For helpful advice on planning your transition from paper to ForeFlight Logbook, check out our blog post on creating catch-up entries.
Fast Automatic Entry
Never forget an entry! Recorded Track Logs can be set to automatically create draft logbook entries, eliminating the need to manually enter basic flight information like date, total flight time, and route. Simply review the entry, add desired details, then tap to save.
Smart Quick Fill Buttons
Quick Fill buttons anticipate the information you want to enter. Values are staged to simply tap-to-enter or pre-filled, like the ending Hobbs or Tach time for that aircraft, based on the previous entry. Pro tip: Use the Send-To action button in the Route Editor or File & Brief view to prime a new draft flight entry.
Logbook Auto-Calculates Night Times and Landings
Log Night Time and Night Landings automatically using a flight's Out, Off, On, and In times to determine how much of the flight occurred at night. ForeFlight will automatically calculate Night Time and Landings from associated Track Logs, Flight plans, and manually-entered data. 
Enhanced Track Log Integration
Link multiple track logs to a single Logbook entry to capture the entire flight and auto-fill fields and suggested values with more accurate information about times and totals. Tap the Add/Change Track Logs button at the top of a Logbook entry to select one or more track logs to associate with it.
Interactive Map
See your flight route on an interactive map for a helpful reference when reviewing entries. The route is overlaid on the Aeronautical Map layer, and you can zoom in to examine your taxi movements on embedded airport diagrams. ForeFlight depicts the actual route when there is a linked Track Log for the flight, or the planned route if no Track Log is linked.
Always Synced & Secure
Your pilot logbook data is automatically and securely stored in the ForeFlight Cloud. ForeFlight's servers regularly backup your logbook when changes or additions are made, delivering a new level of security and assurance for cloud storage.
Your Data Is Yours
You can export your entire logbook any time you want from the ForeFlight website.
The Logbook Ecosystem
ForeFlight Logbook is more than just an electronic record of your flights. It's an interconnected ecosystem of pilot tools and services that makes it as easy as possible for you to maintain an accurate and current record of your flying by connecting your personal logbook with other services you rely on.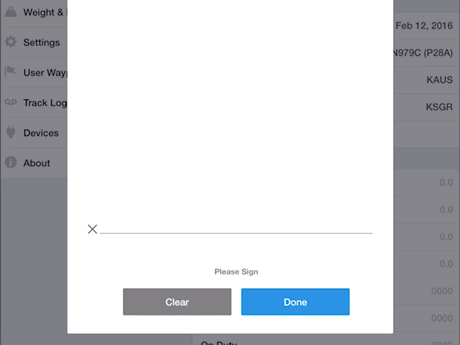 Flight Sharing
Flight Sharing makes it easy for you to send draft entries to those you fly with and also post to social media.
Remote Signing
A time-saver and a convenient feature for CFIs and student pilots. Students can send draft logbook entries to their instructor who can review, send back edits, or sign the entry, whenever and wherever it is most convenient. The instructor can also opt to add the flight to their own ForeFlight Logbook as 'Dual Given' time.
The Perfect Platform for Flight Instructors
ForeFlight Logbook streamlines the task of filling out logbooks, allowing you to focus on the flight lesson and then collaborate electronically during downtime to complete logbook entries. In the process, students learn to manage their logbook and you can effortlessly maintain your own required training record.
Digital Endorsements
ForeFlight Logbook supports digital endorsements, allowing ground and flight instructors to sign endorsements right in the ForeFlight app using their finger or a stylus.
Your Signature is Protected
Logbook endorsements and digital signatures are locked and stored in the ForeFlight Cloud for safekeeping.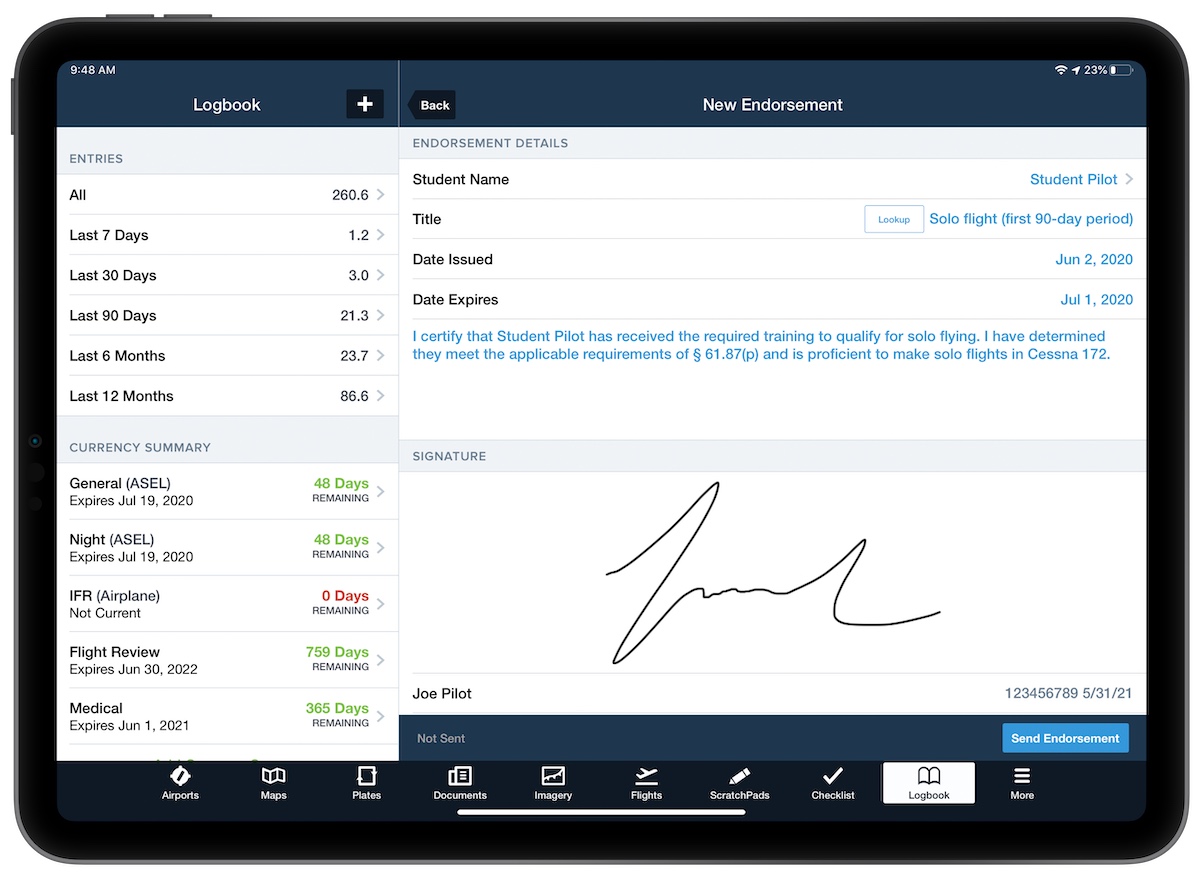 Clear & Concise Training Records
The flexibility of ForeFlight's digital logbook allows you to keep a thorough and legible record of the ground, flight, or simulator training you give. Use the Crew & Passengers section to add Student information and the comments section to document specific training maneuvers.
Over 60 Built-In Endorsement Templates
A database of over sixty endorsement templates derived from FAA Advisory Circular 61-65H eliminates the need to type endorsement text, while still allowing the customizations necessary to complete an endorsement.
Watch the Video
Flight Simulator Support
Logbook provides full support for flight simulators, making it easy for you to log time and update flight currency using four different types of simulators.
Flight simulators are seamlessly integrated with the rest of your aircraft in Logbook, and simulated flight time, approaches, and landings logged with a simulator appear in Logbook reports and count towards currency requirements for the simulated aircraft type.
Reports & Currency At-A-Glance
Access your logbook data in a variety of ways to stay on top of expiration dates, currency requirements, or flying goals. Reports can be viewed and printed both in the app and on the ForeFlight website.
Color-Coded Recency Tracking
Stay on top of currency for IFR flight, type ratings, carrying passengers at night, night vision goggle ops, your medical certificate, CFI renewal, and more. Logbook automatically flags missing aircraft details to ensure accurate tracking.
Flight Experience Reports
Filter and export a neatly formatted table of your total times. Flight experience reports are helpful for completing annual insurance forms, rental applications, and job applications.
Progress Tracking
Keep your eye on the prize with progress tracking reports. This report helps you keep tabs on your FAA flight requirement progress towards your private pilot certificate or instrument rating.
8710 Report
The 8710 report pulls your complete record of pilot time and is formatted just like the actual FAA Airman Certificate / Rating Application. This report is a helpful time-saver that serves as a guide for filling out the application.
Commercial Progress Reports
Track your progress towards your Commercial ASEL checkride with this auto-filled PDF report based on the FAA's requirements outlined in FAR Part 61.
Logbook Detail Reports: Print in Traditional Format
New Logbook Detail Reports allow you to transform your digital flight entries into a format suitable to print for personal backup or professional job interviews. Each layout includes your endorsements and certificates on separate pages at the end.
Watch More Logbook Videos
Make Logbook Yours
We've built in lots of ways for you to customize your logbook.
Log Your Flights with Photo Memories
Attach unlimited images—from the Apple Photos app or fresh from the device camera—to flight entries, aircraft profiles, certificates, and endorsements. Use photos to capture the view on approach to the runway, keep a visual record of squawks, or capture a shot of you and your passengers. As with all your Logbook data, images are stored securely in the ForeFlight Cloud so you can access them from all of your devices.
Smart Logbook Photos
ForeFlight can automatically associate pictures and screenshots taken during a flight with the logbook entry, greatly simplifying the task of adding photos to a new entry. Select the photos that you want to add, and ForeFlight's Cloud storage and Sync capabilities makes them accessible on all of your mobile devices.
Custom Fields
Flexible custom fields give you the freedom to track as much additional data as you like—touch-n-go's, volunteer flight time, personal flying goals, and more.
Custom Summary View
Tap to add and configure as many currency summaries you want to see on the logbook overview. Simply swipe left to delete them.
Show/Hide Fields
Show or hide standard fields so you only see the information that matters to you. For example, you can hide duty-time fields if you don't fly for hire.
Start Logging Time with ForeFlight Today
Transitioning to an electronic logbook is as easy as cracking open a new paper logbook—and you can do so much more with sharing, customizing, and accessing your data in lots of helpful ways. Logbook is available as part of our new Basic Plus and Pro Plus plans or as an add-on to existing plans for Individual pilots, as well as an optional add-on for Business Pro multi-pilot accounts.
Integrated Logbook Webinar
Watch Thomas Daugherty and Joey Arena present our Logbook webinar. This webinar covers the benefits of logging with ForeFlight including automatic logging and currency tracking. Learn how to set up and import your logbook into ForeFlight, create flights that affect your currencies, send and receive endorsements, and more.