Flight Schools and Universities
Bring the power of ForeFlight to your classrooms and aircraft with our standardized solution for keeping your flight students and instructors connected and organized.
Education Group Accounts
Many top-flight training programs worldwide are standardizing their schools' flight training EFBs with ForeFlight and integrating it into their curriculum. In addition, with our Education Group Account (EGA), flight schools and universities can benefit from volume pricing when purchasing ForeFlight licenses to distribute them to their students and instructors. The ForeFlight licenses purchased by a school are linked together and include additional benefits to help your organization stay organized and efficient.
Standardized Learning Solution
Standardization, consistency, and efficiency are crucial for growing flight schools. A ForeFlight Education Group Account ensures administrators, CFIs, and students use and benefit from the same industry-leading flight deck solution.
Account Management
Flight schools own the licenses and manage distribution to their students and instructors. Permissions can be assigned and re-assigned as needed, and you can easily purchase additional licenses as your school continues to grow.
ForeFlight Compliance
Easily view which students or instructors have outdated documents so you can take action and ensure your organization is flying with the latest charts, data, and documents. The Compliance view on ForeFlight Web provides a detailed list of every user on your account, breaking down the different types of data and software versions (both iOS and ForeFlight) for each license. Expired data appears red for easy identification.
Shared Documents
Significantly reduce the cost and inefficiency of providing hard-copy documents and textbooks to your students and instructors. Administrators can share electronic documents, such as lesson plans, aeronautical charts, maneuver guides, aircraft operating handbooks, and checklists, directly to your student's devices and can be accessed anywhere.
Watch the video
More Flexibility with Binders and Drives
Create custom binders to easily distinguish between student and instructor documents or utilize ForeFlight's built-in organization by downloading and accessing documents in the same drive.
Better Efficiency With Easy to Access Documents
ForeFlight provides your organization hundreds of freely-downloadable documents from official government sources, including the FAA, NAV CANADA, and EUROCONTROL.
DISTRIBUTE RESOURCES WITH CLOUD DOCUMENTS
Connect your school's Dropbox, Box, or Amazon S3 account to deliver your lesson plans, checklists, POH, textbooks, and more up to date and always available on student/instructor devices.
Our students have access to advanced tools in ForeFlight preparing them for their aviation career. We do believe ForeFlight makes them a better pilot today and into the future.
University of North Dakota, Grand Forks, ND
Shared Aircraft Profiles
You can customize and share all of your school's aircraft performance profiles with each license, making it easier for students to select your school's specific aircraft when flight planning and ensuring accurate performance data. Once administrators distribute school aircraft profiles, editing is restricted so students cannot make changes.
Custom Content
Easily import custom waypoints, charts, and map layers via hyperlink, email attachment, AirDrop, or drag-and-drop in iTunes for viewing on the map.
Content Packs
Content Packs give you control over the type of information your students and instructors see in flight training scenarios.
Custom Map Layers
Flight Schools can create custom map layers within ForeFlight, clearly defining training areas, custom visual references, waypoints, and altitudes where students are permitted to operate.
Share With your Students & Instructors
Easily share Content Packs within your organization to ensure all users are training with consistent information
Jeppesen Data
Prepare your students for their professional aviation career by training them with Jeppesen charts. Easily assign Jeppesen chart subscriptions purchased by your school to your ForeFlight licenses so students and instructors can seamlessly integrate Jeppesen charts and data into their flight training.
Watch the video
ADS-B Support with Sentry
Enhance your instructors' and students' inflight situational awareness and safety within a crowded practice airspace. Our compact and powerful Sentry ADS-B devices deliver real-time weather, traffic, and more to ForeFlight Mobile on your students' iPads and iPhones.
ForeFlight's long list of robust features support our students in being better prepared for each flight, and as a result, more confident pilots. ForeFlight is a must-have for all our students and CFIs - we wouldn't fly without it!
Sierra Charlie Aviation, Scottsdale, AZ
Education Group Account Pricing
Take advantage of all the possibilities ForeFlight offers with our Education Group Account (EGA) pricing. EGA purchases are less expensive per license than if students purchased them individually and provide your classrooms and cockpits with the best mobile technology. Additionally, ForeFlight annual subscriptions are less than the cost of one training flight and add increased value to any flight training organization. If you are a Flight School or University administrator, in the United States or international, interested in an Education Group Account with ForeFlight, contact ForeFlight education for more information and to schedule a demo.
Key ForeFlight Features that Enhance Learning
ForeFlight doesn't replace the fundamentals of learning how to flight plan and navigate - it reinforces them. ForeFlight optimizes the time you spend with your students by helping them more easily visualize the flight environment.
Navigating IFR Procedures
Teaching students to navigate departures, arrivals, and approaches is made easier with Procedure Preview. Select and visualize Standard Instrument Departures (SIDs), Standard Terminal Arrivals (STARs), and even VFR traffic pattern entries.
3D Airport
Students can increase their situational awareness and familiarity with new airports by studying the terrain and visual reference points before departing from or landing at any airport worldwide.
Better Weather Visualization
Graphical weather overlays on the map are essential to learning about aviation weather. Overlay a planned route with winds aloft, convective activity, TFRs, and more, and students will quickly build the skills to make go/no-go decisions.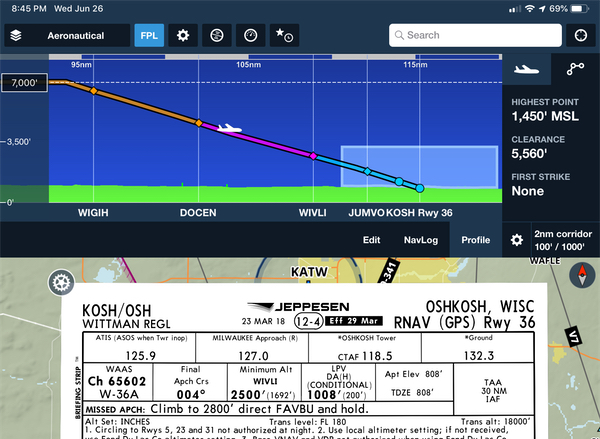 See Ahead in Profile View
Profile View brings a new dimension to studying a traditional chart and is the perfect tool for helping students visualize what their route will look like from the side in relation to terrain, obstacles, and airspace.
Educational Licensing Program
In addition to Education Group Accounts, we also offer our Educational Licensing Program (ELP) for accredited aviation programs (Part 141 Universities, Colleges, and Community Colleges) offering a two- or four-year aviation degree in the United States. If your school is currently a member of our Educational Licensing Program, enter your school email address on this page to verify your eligibility and receive an email with a link to purchase ForeFlight at a discount.
If your accredited aviation program would like to participate in our Educational Licensing Program, contact ForeFlight Education.